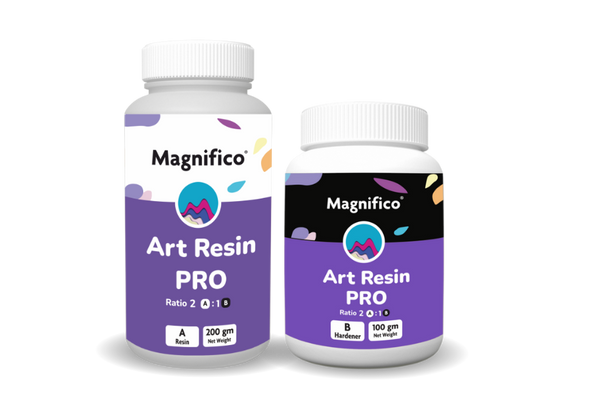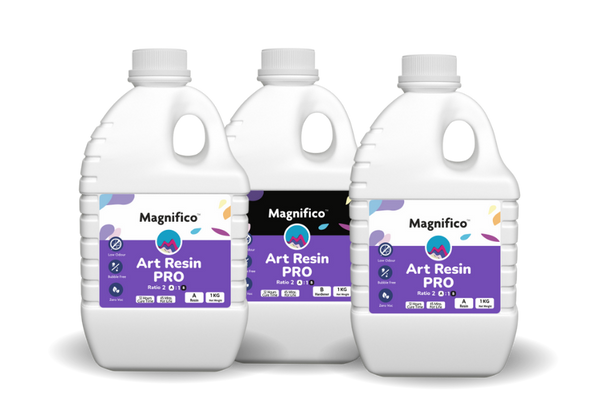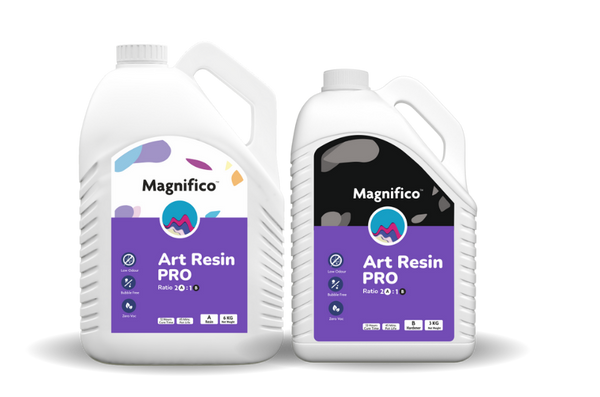 Pot Life : 45 mins

Cure Time : 12 Hours

Max Pouring Thickness : 15mm 

Crystal Clear

Auto Bubble Release 

UV Resistant 

Scratch & Mar Resistant
Heartily designed to be every resin artist's delight, the Magnifico Art Resin Pro is nothing less than paradise with its elegant finish and performance. Due to its high transparency and medium viscosity it is extensively used for creating art, photographs, jewelry, woodwork, tumblers and what not, while the remarkable pot life of 45 mins and curing time of 12 hours only makes it better. Anything an artist can fathom, the Art Resin Pro can accomplish.
Maneuvered with UV inhibitors, this product prevents yellowing, giving the art its shine along with strong and high build finish. As easy to use as this is, you wouldn't mind trusting and depending on it. This safe and certified resin is non toxic, non flammable and perfectly safe that it is blissfully ideal for resin artists
With its comforting easy application you are assured a successful project, which is all the more reason for you to allow yourself to indulge in this splendid Art Resin, for the magnificent creator in you.
Recommended Applications: Small coasters, clocks, trays, mdfs, design coats, top coats, name plates, small tabletops/countertops, jewelry casting, etc
Not recommended for: Large projects/tabletops/countertops, Floors, River table casting as the pot life decreases when you mix a lot of resin together which makes it very difficult to work on larger projects where more resin needs to be mixed in single go!
1. How much time does it take for Art Resin Pro to fully cure?
It will take upto 24-36 Hours
2. What to do if the resin remains soft after 24 hours? 
Wait for another 24 hours to check if it has harden, if it still hasnt hardened, then there could be an improper mixing issue
3. How much pigments should i add? 
It should not exceed more than 5% by volume
4. How much time should i mix resin & hardener?
Mix properly for atleast 3-4 minutes, scraping the sides and bottom
5. How to remove bubbles from the surface?
You can use a Butane/Propane Torch.
6. Why is my resin sticky even after 48 hours?
When Resin or Hardener is not mixed properly with each other, this is what happens
This is how easy it is to use Magnifico
Measure
Using a weighing scale, measure Part A & Part B properly
Mix
For atleast 3-4 minutes, scraping the sides and bottom
Pour
You Heard That Right!
Wait
& let Magnifico do it's thang!
Didn't get order
On repeated mail and communications, order still not delivered. Choose good delivery service.