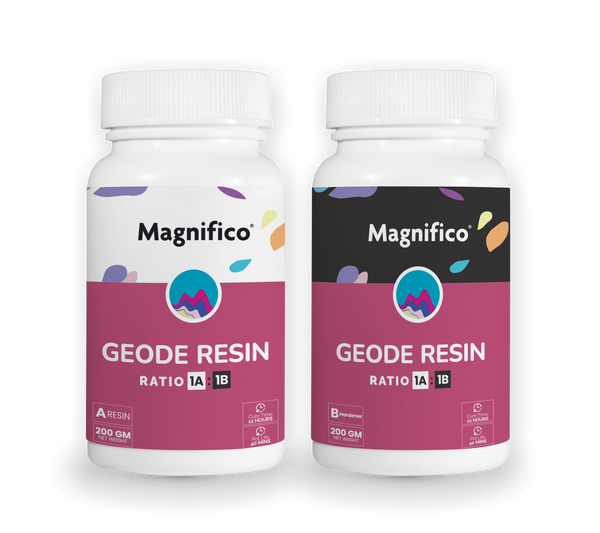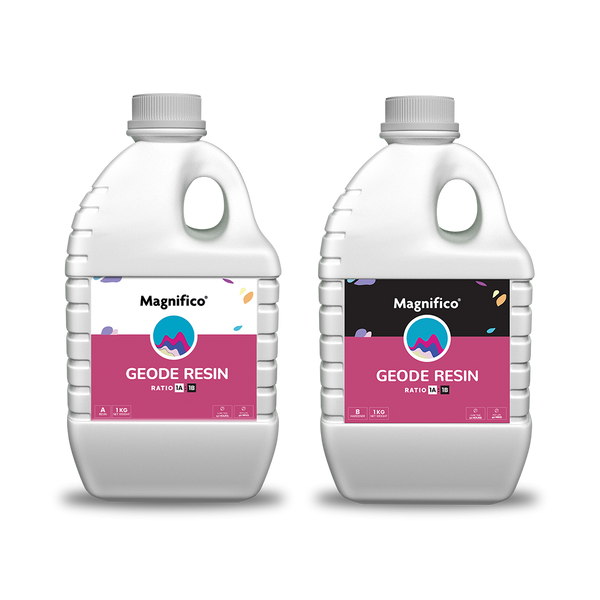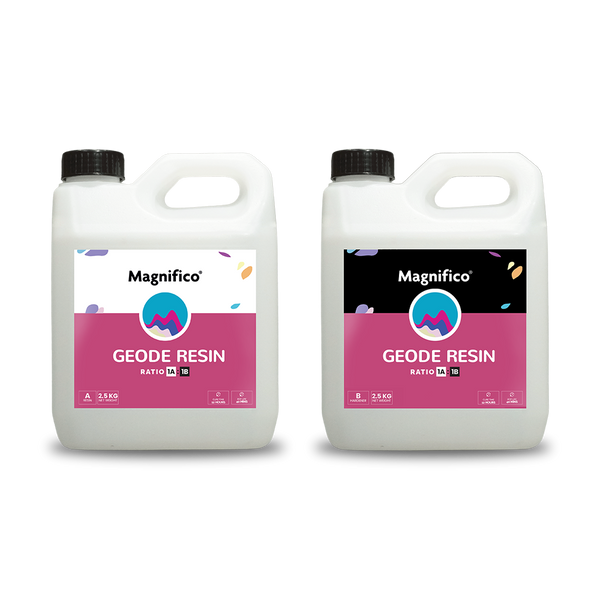 Pot Life : 40 mins

Cure Time : 12 Hours

Max Pouring Thickness : 4mm 

Crystal Clear

Auto Bubble Release 

UV Resistant 

Scratch & Mar Resistant
Introducing Magnifico Resin's Geode Resin, the first geode resin made in India! This unique, 1:1 mixing ratio resin is perfect for creating stunning geode-inspired designs. With a cure time of 12 hours and a pot life of 40 minutes, this resin is quick and convenient to use.s
One of the most useful features of Magnifico Resin's Geode Resin is that it does not spread away from the point where it is poured, making it ideal for creating intricate designs. Although this resin is not recommended for use as a hard surface, like a table top, it can be used as a design coat in conjunction with other resins like Metallic Resin, Art Resin, and Art Resin Pro.
This resin is crystal clear, UV resistant, and has zero volatile organic compounds, making it safe for use in your home or workspace. It is also odorless, making it a great choice for artists who are sensitive to strong fumes. Additionally, it is extremely durable, conforms to ASTM D 4236, is heat resistant, and has a super high gloss finish, ensuring that your finished pieces will last for years to come.
So if you're looking to create beautiful, one-of-a-kind geode-inspired pieces, look no further than Magnifico Resin's Geode Resin! Start creating today!
1. How much time does it take for Geode Resin to fully cure?
It will take upto 12 Hours
2. What to do if the resin remains soft after 24 hours? 
Wait for another 24 hours to check if it has harden, if it still hasn't hardened, then there could be an improper mixing issue
3. How much pigments should i add? 
It should not exceed more than 5% by volume
4. How much time should i mix resin & hardener?
Mix properly for atleast 3-4 minutes, scraping the sides and bottom
5. How to remove bubbles from the surface?
You can use a Butane/Propane Torch, or you can spray Denatured Alcohol to pop all the bubbles
6. Why is my resin sticky even after 48 hours?
When Resin or Hardener is not mixed properly with each other, this is what happens
This is how easy it is to use Magnifico
Measure
Using a weighing scale, measure Part A & Part B properly
Mix
For atleast 3-4 minutes, scraping the sides and bottom
Pour
You Heard That Right!
Wait
& let Magnifico do it's thang!
Happy 😊
Good quality resin only too many bubbles while mixing. Overall quite satisfied.
geode resin
"I'm impressed by the professional-grade results I achieve with Magnifico Resin's Geode Resin, turning my geode artwork into gallery-worthy pieces that impress."
geode resin
"Magnifico Resin's Geode Resin's UV resistance ensures that my geode-inspired artwork remains vibrant and protected, even when displayed in sunlit spaces."