Metallic Clear Epoxy Resin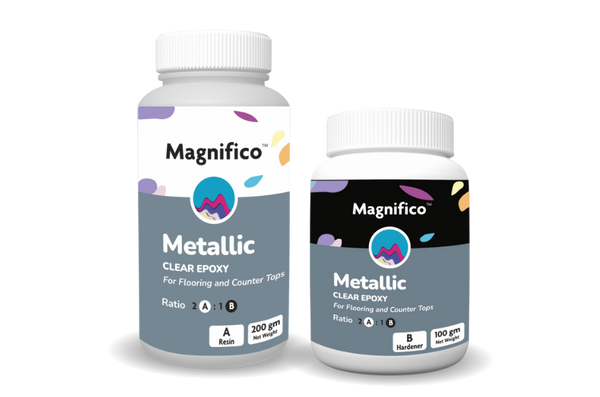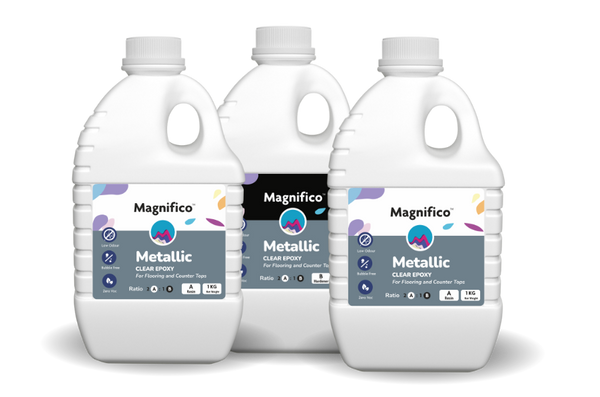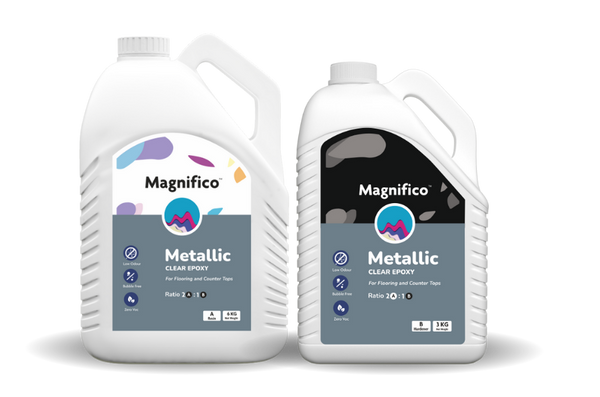 Pot Life : 45 mins

Cure Time : 12 Hours

Max Pouring Thickness : 2mm 

Hazy Liquid

Auto Bubble Release 

UV Resistant 

Scratch & Mar Resistant
The very amazing Magnifico Metallic Clear Epoxy gives you a professional touch to your projects every time. Developed for professional and performance oriented projects like Flooring, Table-tops, top coats and design coats of up to 1-2mm thickness, it is yet extremely easy to use, where all you have to do is love and enjoy the process of whatever you do
With a pot life of 45 mins and curing time of 12 hours, this product gives you time to breathe while you work. Its auto-bubble mechanism and excellent UV protection gives the project a glossy, shiny look while the scratch and mar resistance extends its durability. Like other Magnifico products, this one is also completely non toxic and eco friendly with 0 VOC. Except for not being ideal for casting, The Metallic Clear Epoxy gives you all the reasons to work with it, all you have to do is let loose the magnificent creator in you.
Recommended Applications: Top Coats on pigmented base, Top coats for Tabletops, Countertops, Marble Finish Design Coats, on Mdfs, Top Coats for Clocks, Trays, and many more!
Not recommended for Transparent Coating or Casting as this resin is little hazy but dries clear
1. How much time does it take for Metallic Epoxy Resin to fully cure?
It will take upto 12 Hours
2. What to do if the resin remains soft after 24 hours? 
Wait for another 24 hours to check if it has harden, if it still hasnt hardened, then there could be an improper mixing issue
3. How much pigments should i add? 
It should not exceed more than 5% by volume
4. How much time should i mix resin & hardener?
Mix properly for atleast 3-4 minutes, scraping the sides and bottom
5. How to remove bubbles from the surface?
You can use a Butane/Propane Torch, or you can spray Denatured Alcohol to pop all the bubbles
6. Why is my resin sticky even after 48 hours?
When Resin or Hardener is not mixed properly with each other, this is what happens
This is how easy it is to use Magnifico
Measure
Using a weighing scale, measure Part A & Part B properly
Mix
For atleast 3-4 minutes, scraping the sides and bottom
Pour
You Heard That Right!
Wait
& let Magnifico do it's thang!
Metallic resin
I simply love this resin...its so easy to handle and manoeuvre...would love to buy it again
metallic clear
I wouldn't hesitate to recommend this epoxy to anyone. It's a high-quality product that guarantees excellent results every time
metallic clear
"I appreciate the 0 VOC formulation of this epoxy. It's safe to use and doesn't emit any harmful fumes."
metallic clear
The scratch resistance of this epoxy is impressive. My countertops still look flawless, even with heavy use."
metallic clear
I've used this epoxy for multiple projects, and it consistently delivers a glossy, professional finish. It's my secret weapon