Ultra Clear Casting Resin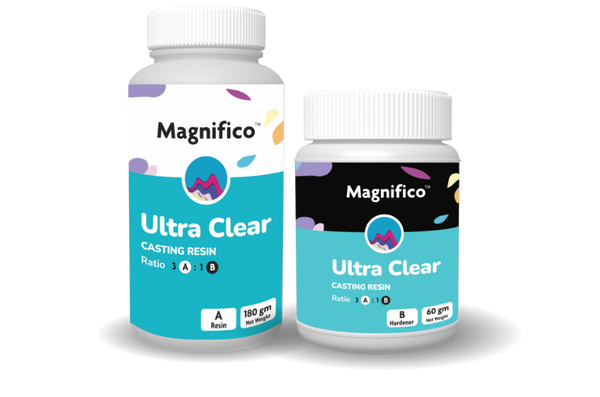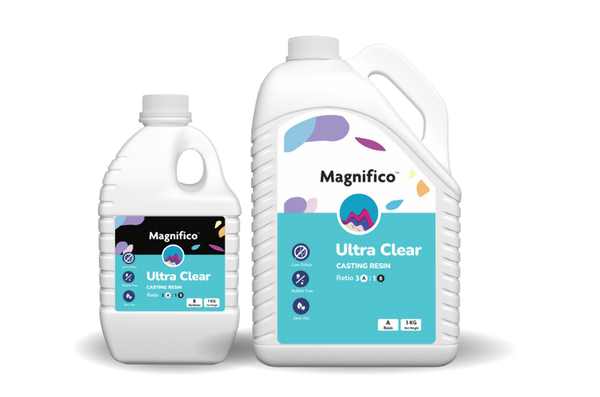 Pot Life : 90 mins

Cure Time : 48 Hours

Max Pouring Thickness : 50 mm at 24 Degrees C 

Crystal Clear

Auto Bubble Release 

UV Resistant 

Scratch & Mar Resistant
We present to you the Magnifico Ultra Clear Casting Resin that brags the best in class clarity for your casts and molds. This UV resistant resin has a pot life of 90 mins and curing time of 48 hours. No more layer-by-layer pouring as this Resin possesses the best in class usage of 50mm thickness in a single pour! How great is it to save time and effort?
Magnifico Ultra Clear Casting Resin's non-toxic and odorless properties allow you to work with pressure pots and vacuum chambers for casting deeper than 50mm while the auto-bubble releases the trapped air for a crystal clear work.
The low viscosity nature of this epoxy resin allows it to cure slowly. It is scratch and mar resistant, but nothing should resist you from trying out the Clear Casting Resin. Try now and unleash the magnificent creator in you
Recommended applications: River Tables, Deep Castings, Lamps, Clock Castings and many more!
Not recommended for: Top coats, small coasters, design coats as it is a really slow curing and low viscosity resin which will take really long time to cure for small castings or coatings
1. How much time does it take for Ultra Clear Casting Resin to fully cure?
It will take upto 48 Hours
2. What to do if the resin remains soft after 48 hours? 
Wait for another 24 hours to check if it has harden, if it still hasnt hardened, then there could be an improper mixing issue
3. How much pigments should i add? 
It should not exceed more than 5% by volume
4. How much time should i mix resin & hardener?
Mix properly for atleast 3-4 minutes, scraping the sides and bottom
5. How to remove bubbles from the surface?
You can use a Butane/Propane Torch, or you can spray Denatured Alcohol to pop all the bubbles
6. Why is my resin sticky even after 48 hours?
When Resin or Hardener is not mixed properly with each other, this is what happens
This is how easy it is to use Magnifico
Measure
Using a weighing scale, measure Part A & Part B properly
Mix
For atleast 3-4 minutes, scraping the sides and bottom
Pour
You Heard That Right!
Wait
& let Magnifico do it's thang!
ultra clear casting
"Versatile for various applications, limitless creative possibilities."
ultra clear casting
"Brings jewelry pieces to life, enhances their brilliance."
ultra clear casting
"Smooth flow and easy release from molds."
ultra clear casting
"User-friendly instructions, perfect for beginners."