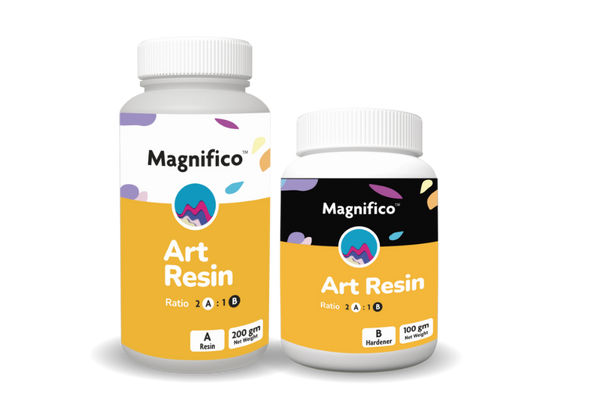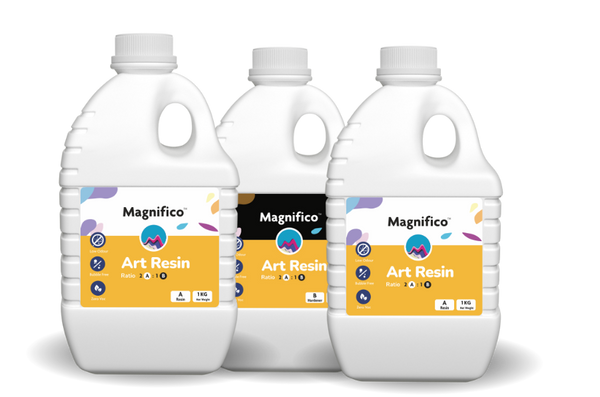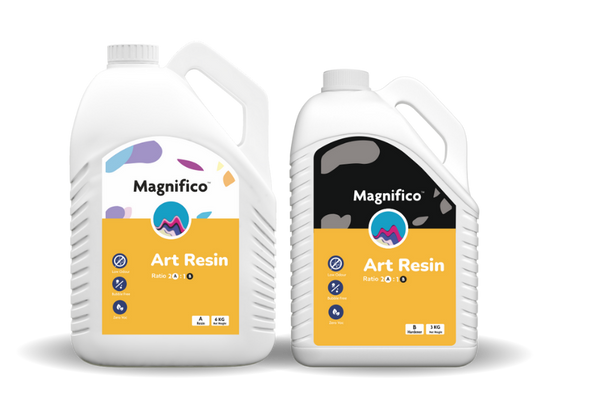 Pot Life : 90 mins

Cure Time : 36 Hours

Max Pouring Thickness : 15mm 

Crystal Clear

Auto Bubble Release 

UV Resistant 

Scratch & Mar Resistant
We bring to you the Multi-Purpose Art Resin. This fine, clear and glossy resin has outstanding bubble-free and self-levelling properties, designed for beginners and upcoming resin artists. It has a long pot life of 90 minutes and a curing time of 24-36 hours, allowing you to mix more resin and indulge in bigger artworks and projects like floors, countertops, vast murals, etc., empowering you to be creative.
Magnifico Art Resin is scratch and mar resistant, longing its durability. This multipurpose resin can be used for coating and casting of art works like murals and clocks and furniture like tabletops. We recommend using the Art Resin for an ideal single pour use of 12-15mm thickness. A need for more thickness can be satiated with our Ultra Clear Casting Resin that boasts an impressive 50mm thickness.
Our products are engineered according to the Indian Climate Conditions. It is non toxic and odorless because of 0 VOC and extremely UV Resistant. Now all there is for you to do is try out the magnificent art resin birthing the magnificent creator in you.
Recommended applications: Large Artworks, Countertops, Tabletops, Coasters, Clocks, Trays, Geodes, Jewelry, and anything that you can imagine with resin.
Not recommended for: Castings deeper than 15mm in single pour
1. How much time does it take for Art Resin to fully cure?
It will take upto 36 Hours
2. What to do if the resin remains soft after 24 hours? 
Wait for another 24 hours to check if it has harden, if it still hasnt hardened, then there could be an improper mixing issue
3. How much pigments should i add? 
It should not exceed more than 5% by volume
4. How much time should i mix resin & hardener?
Mix properly for atleast 3-4 minutes, scraping the sides and bottom
5. How to remove bubbles from the surface?
You can use a Butane/Propane Torch, or you can spray Denatured Alcohol to pop all the bubbles
6. Why is my resin sticky even after 48 hours?
When Resin or Hardener is not mixed properly with each other, this is what happens
This is how easy it is to use Magnifico
Measure
Using a weighing scale, measure Part A & Part B properly
Mix
For atleast 3-4 minutes, scraping the sides and bottom
Pour
You Heard That Right!
Wait
& let Magnifico do it's thang!
Best ever
Every time i buy i had satisfaction of very marvellous work. Tqqqqqq
art resin
"This resin has opened up a whole new world of creativity for me. The possibilities are endless, and I can't wait to continue exploring and creating with this fantastic product."
art resin
"I've been a resin artist for years, and this resin has become my absolute favorite. The quality is exceptional, and the results speak for themselves. Don't hesitate to try it!"
art resin
"I've been using this resin for my geode-inspired designs, and it has transformed my artwork. The resin creates a stunning, glass-like effect that captivates everyone who sees it."
art resin
"The non-toxic formula of this resin was a big selling point for me. It's great to know that I can work with a safe product without compromising on quality. Highly recommended!"