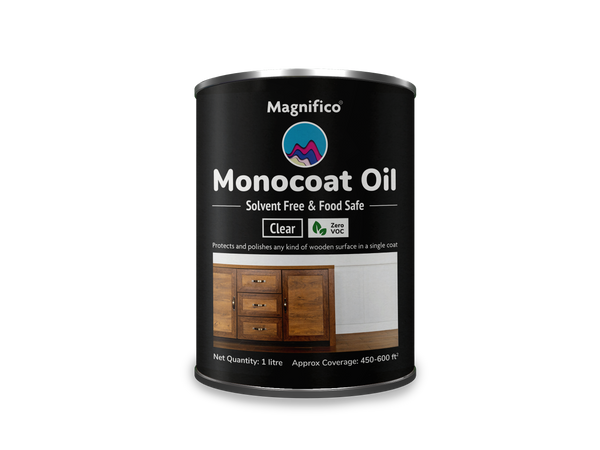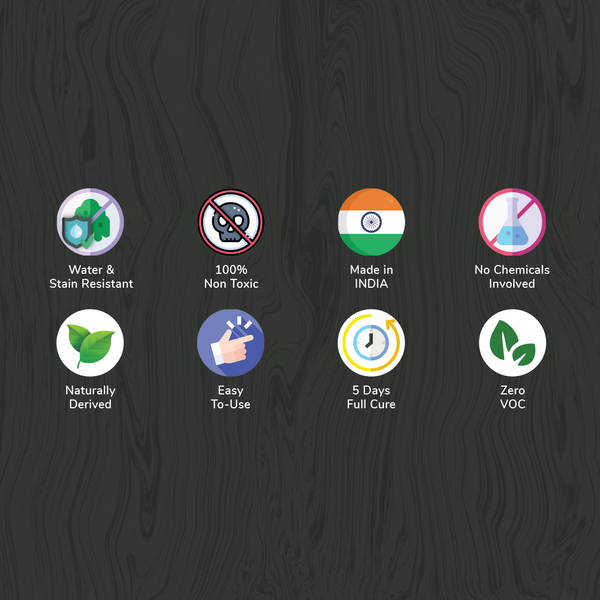 With a coverage of 450 square feets, Monocoat Oil is 100% MADE IN INDIA which has literally Zero VOC and it is derived from naturally sourced raw materials, which is a one-of-kind, single-coat wood protection that paints and protects.
It shields wood against moisture, heat, and everyday wear and tears. It's ideal for wood furniture, hardwood flooring, oak tables, and anything else made of wood. 
Made up of naturally derived oils and waxes, which is a natural wood floor finish. Suitable for both exotic and domestic wood species.
Designed to work on even the oiliest of woods. With time, it improves, becoming more durable and attractive. 
This product is a wood finish and stabilizer that is food-safe, solvent-free, and non-toxic. It is waterproof. In one coat, one can get a lustrous sheen. Leather, concrete, plastic, vinyl, marbles, and metal all look great with it.

 



Acts as a sunscreen for the wood with natural UV inhibitors.

 
It is devoid of heavy metals in toxic proportions and isocyanates, making it safe for users and end-users. It does not comprise any volatile organic compounds. It dries quickly, is both hard and flexible, and is clear.

 



It easily detects repairs without the need for sanding or halos. It is possible to produce any shine. To produce any hue, use oil-compatible pigments or dyes.

 
"No solvents" indicates that nearly nothing will evaporate, so anything you put on the wood will stay there. Monocoat Oil covers a far greater surface area than conventional wood treatments. As good as traditional finishes in terms of coverage. The amount of coverage depends on the density and porosity of the wood. Monocoat is a proprietary combination of oils and waxes that was created because of imagination, hard work, and a burning desire to address difficulties unique to the finishing industry. 
Salient Features of Monocoat Oil:
It's great for woodturners and works as a friction polish.

 

Families, children, and dogs are all safe.

 

Simple to use. It's as simple as wiping on and wiping off.

 

A small amount can last for very long.

 
Applications  –
Monocoat Oil is a one-coat finish that can be applied in a single application. Hardwood Floors are stabilized, protected, and enhanced with this wonderful finish. 
Can be applied for both Commercial and Residential purposes: 
Can be applied on hardwood floors in all kinds of climates. It even holds the largest planks in place. Once cured, it will not water stain and will block UV rays.   
Monocoat Oil is perfect for interior and outdoor applications  
Boats, Brightwork, Doors, Floors, Decks, Gates, Fine Furniture, Patio Furniture, Bowls, Cutting Boards, Kitchen Implements, Toys, vehicle detail, concrete, leather, and metal, etc. The list might go on forever.  
After Finishing with Monocoat oil 
Nothing should be taped to the finish. The floor needs 3-5 days to cure, to become water-resistant, and harden entirely after being treated with Monocoat Oil.

 

Although the floor can be used 48 hours after the oil has been applied, caution should be exercised. 

 

After 48 hours, the surface in high-traffic areas should be covered with cardboard, but just for the duration of the traffic time. Remove the cardboard once the heavy traffic has passed. This step is not required after 5 days of applying the Monocoat Oil

 
The finish will be resistant to water and most liquids when the cure period has elapsed. During the curing phase, if the finish shows symptoms of spots, moisten a cloth with Monocoat oil and massage the place. The spot will be removed, and the finish will be rejuvenated.

 
This is how easy it is to use Magnifico's Monocoat Oil
Sand the surface
Spread
Buff it in
Wipe it off
This is how easy it is to use Magnifico
Measure
Using a weighing scale, measure Part A & Part B properly
Mix
For atleast 3-4 minutes, scraping the sides and bottom
Pour
You Heard That Right!
Wait
& let Magnifico do it's thang!
monocoat oil
"I've recommended Monocoat Oil to all my friends and family. It's a reliable and high-quality wood finish that delivers on its promises. You won't be disappointed!"
monocoat oil
"Monocoat Oil has become my go-to wood finish. It's easy to work with, provides excellent coverage, and leaves a professional-looking result every time."
monocoat oil
"I appreciate the fact that Monocoat Oil doesn't require sanding before repairs. It saved me time and effort while still achieving seamless results."
monocoat oil
"The ability of Monocoat Oil to act as a sunscreen for wood is fantastic. My outdoor wooden structures now stay protected from the sun's harmful rays."
monocoat oil
"I've used Monocoat Oil on both light and dark wood species, and it provided consistent and beautiful finishes on all of them. It's a reliable choice for any project."